GLENDALOUGH - A BRIEF HISTORY
Glendalough is a glacial valley in the mountains of Co.Wicklow famous for its early medieval settlements and monastic city founded in the 6th century by St.Kevin. St.Kevin was relative to one of the ruling families of Leinster. Under instruction from three Holy men, Eoghan, Lochan and Eanna, he studied the faith. There are many miracles he performed and he died in 618 and following his death the entire area continued to flourish as a monastic site.
A PERSONAL RETREAT TO GLENDALOUGH


I was in need of a retreat to wash off the noise of the world from my soul and plunge into the clean waters of the wilderness where I could bathe in some silence for a time. I was headed for a place run by the sisters of mercy congregation called ''Glendalough hermitages'' which you can discover for yourself here. As I approached the hermitage one could smell the sweet mixed fragrance of the air, trees and burning wood from the chimneys of fellow pilgrims and the silence of it all was wonderful.
The Strange thing about silence I've discovered whilst on retreat (not that it's anything new) is that it isn't just simply the elimination of sound or the reduction of the hustle and bustle that quiets the heart. Although such conditions of a near noiseless environment help develop the conditions necessary for the heart to be silent and at peace, silence is more a state of soul where no noise has the power over us to disturb our peace. Instead of becoming obstacles to achieving a peaceful state of soul, such noises envelop and become an addition to the existing state of silence.

Throwing oneself into the deep end of silence from the cliffs of the noisy city, and so suddenly, can seem very intimidating at first. When I first set my bags down in my hermitage and lay on my bed after an exhausting 2 hour journey from Dundalk, It felt really good to hear little to nothing around me. After some time small noises such as the humming of a fridge, the ticking of the clock or the slight splash of rain on the window became amplified. These sounds didn't disturb my silence but like the branches to the trunk of a tree, such noise became a part of my silence.


After sometime the honeymoon of silence would soon be over and I would have to contend with what can only be described as a sudden presence that felt like a ''pressure'' and as if the entire world around me was caving in. In the following hours this too, with patience, passed and I recognized it as a symptom of a sickly soul craving the drug of the noisy world but once the cold turkey was over, I could return to my peace. I'm guessing this happens to everyone and that it's not unique to me.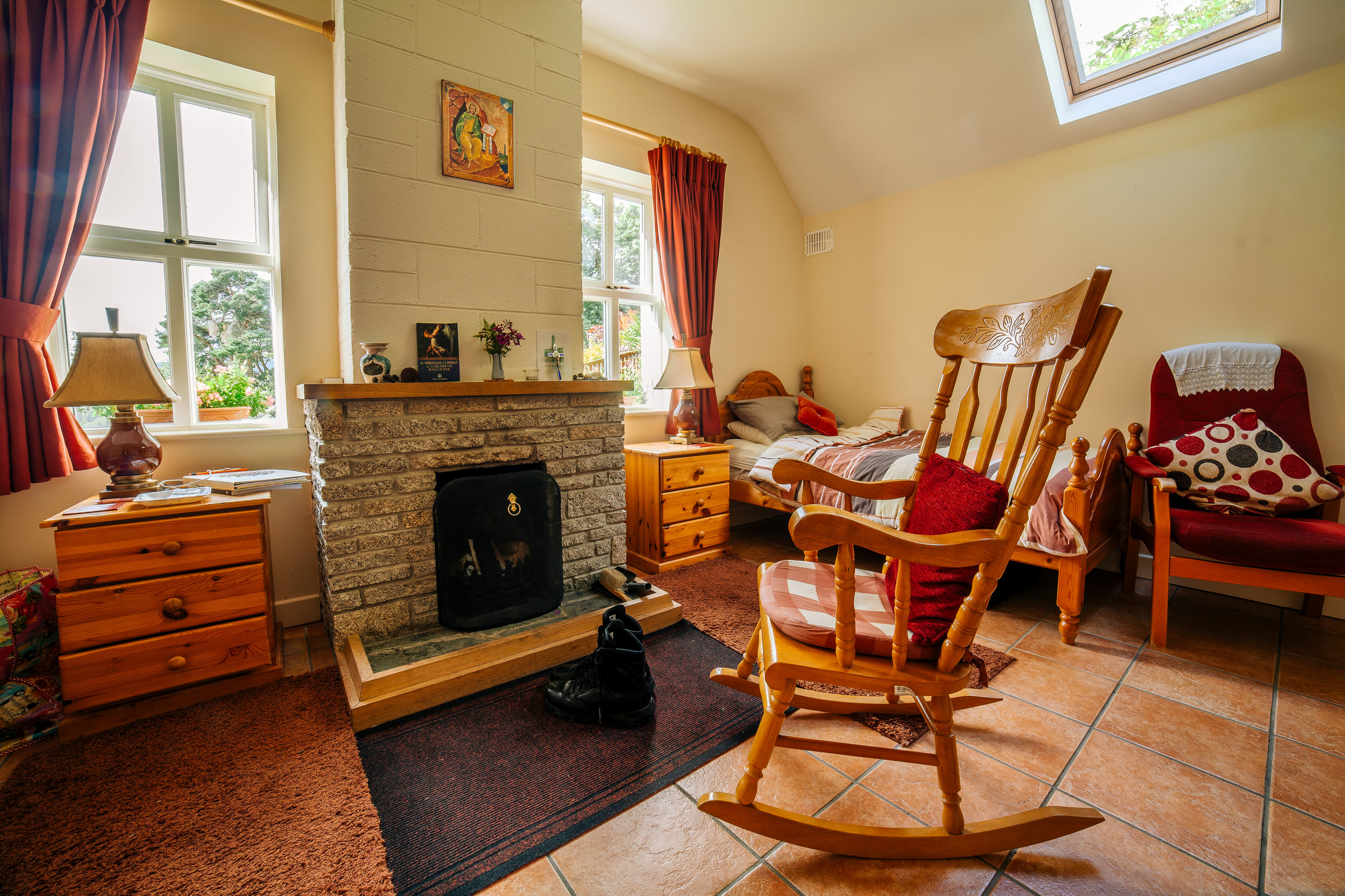 DRAWING AWAY TO A LONELY PLACE
On the morning following our arrival we attended 9am Mass in St.Kevins Local parish Church where we were greeted with the Gospel reading about Jesus and his disciples getting into a boat and drawing away to a lonely place. There are numerous instances in the Gospel where Jesus and the disciples do this. Straight away I felt it no coincidence as here we stood on one of the oldest monastic sites in Ireland where we decided to draw away to this lonely place the monks picked centuries ago as a place of worship.

After some breakfast following Mass, we headed for the upper lake at Glendalough and thought we'd work our way back towards the monastic city and then back to the hermitage for evening prayer. We didn't anticipate such a large crowd and then realized it was bank holiday Monday. The place was packed and finding parking rather difficult but St.Kevin had my back and one opened up right beside the path that leads to the lake.

Exiting the car and approaching the upper lake I could not believe the staggering vastness and distance of the lough and mountains. It truly was a slice of heaven on earth and immediately I understood St.Kevin's desire to make this place a land of prayer and meditation. My photographs of this ocean of serenity never truly captured it. I don't believe that any photograph can ever replace the human eye, heart and personal experience of any given location and they only ever reflect the beauty of it all as if ones sees their reflection in a dirty mirror.

After taking some photos we headed to St.Kevin's Bed where I was eager to see this shallow cave St.Kevin had taken up residence in to do battle with the spiritual forces of evil that govern the air around us. Here, yet again, I meditated on the morning readings of Jesus drawing away to a lonely place and here St.Kevin was doing just that. Then I thought about the feast day that happened to be the day after which was ''The Transfiguration of Our Lord'' where he takes Peter, James and John up to a lonely mountain to pray. And there they see him transfigured into a burst of pure bright light. Alongside him appear Moses the liberator and Elijah the Prophet and they begin to converse with him. This was not a coincidence this was what I like to call a ''Godincidence''.

A FINAL FAREWELL
As I discussed previously regarding Peter James and John and the Transfiguration of Jesus, I thought I'd mention that within this story the apostles wanted to set up camp and stay in such glory but it was not to be. They had to come down from the glory of the mountain including all that supernatural wonder they were witnessing and head back into the world, where their mission to spread the Word and suffer a terrible death on account of the Gospel was soon to be experienced. They go from this incredible joy and safe space to one of great discomfort and certain death. Here Jesus teaches us a valuable lesson that we don't simply get to stay in heaven without first having worked and toiled a little for it.
I think we can all resonate with the apostles. When we come across a slice of heaven on earth like Glendalough for example, I always say ''wow, wouldn't it be great to just stay here, set up camp and never leave?'' Now it's possible to do this. I mean, I could move here if I wanted to but it would take a considerable amount of sacrifice, toil and effort on my behalf to get the money to do so but it is achievable. It's the same with our journey towards Heaven, Jesus often gives us a glimpse of this through various graces but we must make many sacrifices and work hard if we want to stay there.

Here we go, we head down from Glendalough and like the apostles take with us the memory of our experience with Jesus as a means to encourage us to work hard that we may experience an even greater glory in heaven should we be found worthy at our parting breath.

Dear Lord, you inspired St.Kevin to draw away to a lonely place that he might crawl into the depths of your Sacred Heart and be transfigured into another Christ so that, through him, the world might know you better, Amen.